Experiencing Enable The Children, Finishing at the Beach
Today was an amazing experience with Enable The Children. It was both heartbreaking and encouraging to see what is happening for special needs children in Sierra Leone.
We started off the day having breakfast at th the hotel with a visit from Anna Vines who is the director of the ETC program at World Hope. She gave us some background into the program and helped set expectations for the day. After breakfast we met a few of their staff that were going to be taking us around to visit children.
Paul Jangba was George, Mike, and my "guide" for the day. I was blown away by the love, care, and compassion Paul showed to the children we met. He only has a High School education but loves God and has been trained so well by ETC. I was also amazed at how the ETC transportation driver was also involved with the visits.
The first visit we made was with a little boy 2-3 years old with epilepsy named Alimamy. His mother Hawanatu was there and shared that since working on the exercises her son had been showing improvement. The situation was so hard to hear as the father had abandoned the mother and she was living with her disabled aunt(an amputee). Her mother had passed away so she had no family for support. Because of her disabled child she can't go to the market to sell goods so she has to rely on others selling her goods for her. Unfortunately those that she gave products too keep telling her to come back the next day to collect money and she is not seeing any income.
We visited a little boy, Mamadu, and his brother that were staying with a care giver while there mother was out working. The boy, with partial paralysis on his left side, and his brother would do exercises together so as to help the boy be more excited and willing to do his exercises.
The final home we stopped at was another little girl, around 3 years old, named Mariama, that had epilepsy. The mother was gone and it was either a sister or another relative caring for her. Given the conditions of the home, which was very nice in fact, it was sad that it appeared that the little girl was not getting her exercises in. She was not making that same level of progress as Alimamy. She cried for any exercises Paul tried to do with her. He tried to teach the young girl that was caring for Mariama the right way to do the exercises.
After leaving the final home we headed to a community support meeting they have once a month for families with special needs children. Many community leaders and pastors are involved with bringing support to families and awareness to the communities. There were kids there playing so Ron and Terry had to play some soccer with them.
We enjoyed a nice lunch out together and then headed to the World Hope offices in Freetown. I was able to meet Evelyn with the ETC program who has an autistic son that my wife Vanessa met last year. Evelyn and my wife have been in contact with each other over the last year. We also had a short meeting with Bernadette from World Hope who has been working on a human trafficking project.
After the World Hope office visit we headed back to the hotel to change for the beach.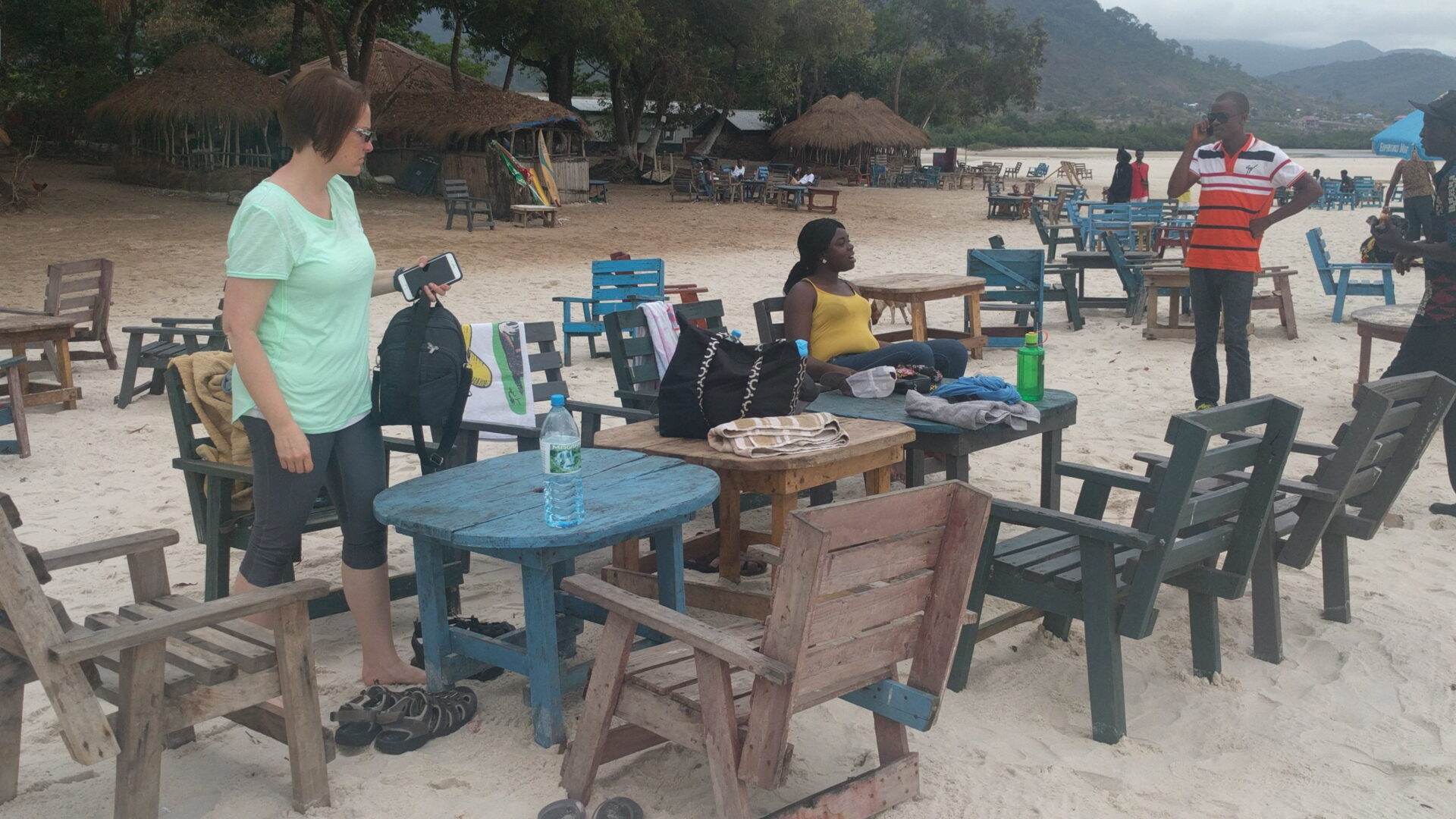 We got some chairs and tables at the beach so we had a nice place to hang out.
The beach felt great and the water was way warmer than lake Michigan.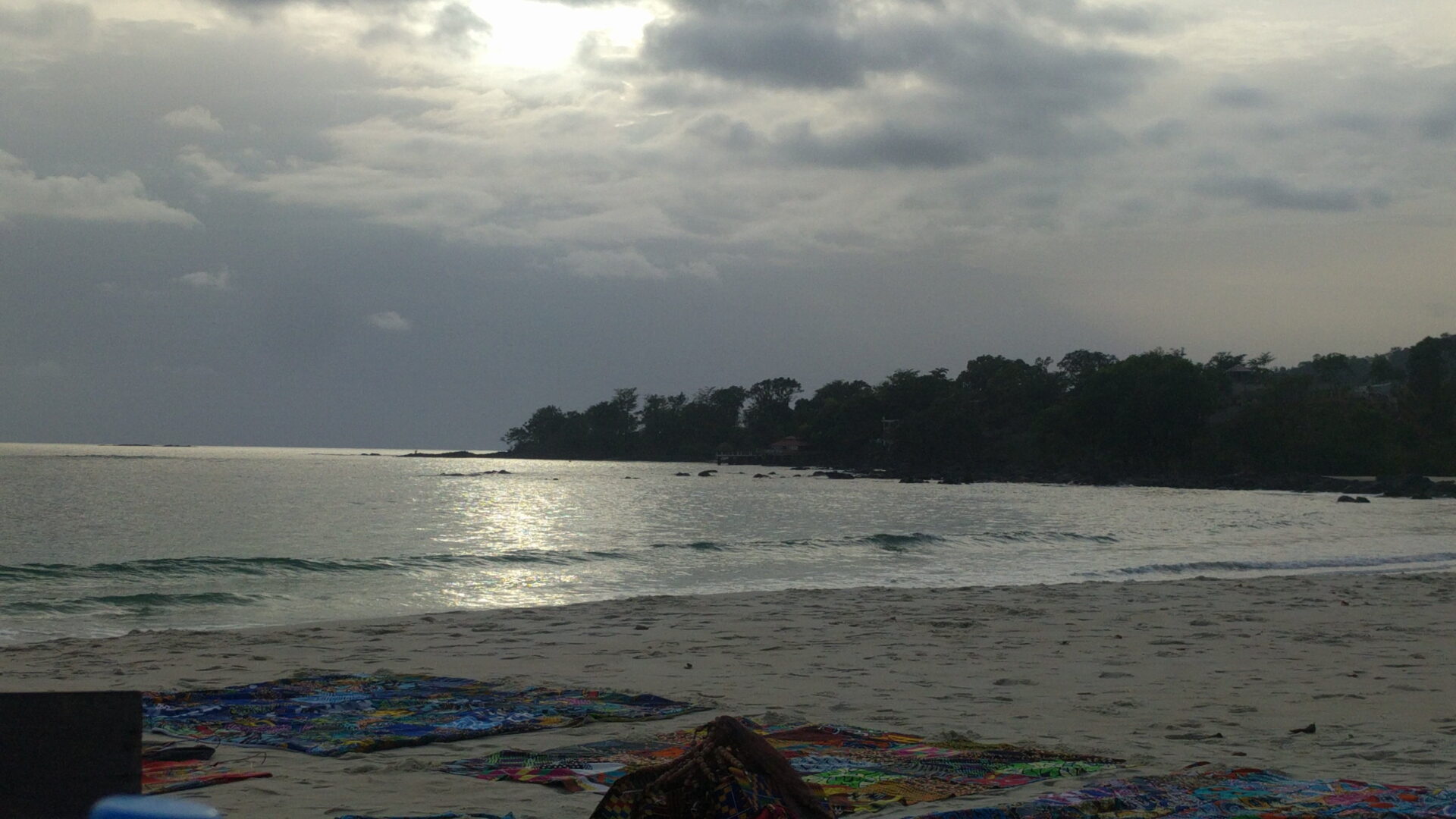 It really was a very nice beach with some great views.
And once again Ron and Terry couldn't resist a game of soccer.
Tomorrow we will spend a little time in Freetown in the market and then begin the journey back home. Please keep us in your prayers that we would have safe travels on our return.