Another Running Milestone…20 Miles
I had the pleasure of running my peak 20 miles training run with this amazing community. The amount of support and encouragement that I've received is a huge contributor to bringing me to the 20 miles milestone today. I would have never thought a little more than a year ago I'd be training to run a marathon. Even up until the 53rd Riverbank Run 10K this past Spring I was only considering doing the half marathon. With the encouragement, and a little positive peer pressure ?, I decided to go for the full marathon.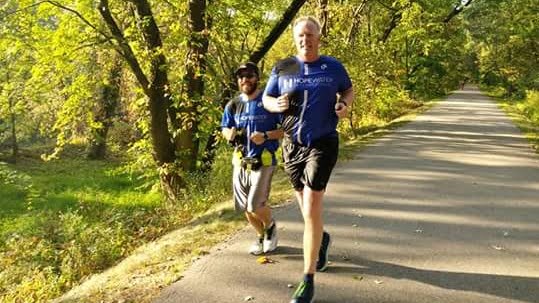 It's been a long journey to get to today, and I've built some amazing friendships along the way. I don't think I could have made it this far without my running partner John VanLaan. I've been blessed to get to know John over these past many weeks of training and look forward to more running together in the future.
I'm pretty sure I'm going to be doing the 53rd Riverbank Run 25K this next Spring, but beyond that I don't know what's in store. Running has really become apart of who I am. It isn't about the races it's about staying active and building relationships. Those are the things that really matter. Most recreational runners, the ones that aren't looking to "place" in the races understand what I'm talking about.
I'm looking ahead to the 26.2 miles ahead of me and I know that no matter what there is a community behind me that will be supporting me across that finish line.
I'm still quite a ways from my $1000 goal to bring wells to Africa. I hope that my journey is an encouragement and that those I know would feel compelled to celebrate with me today by helping bring water to those that are in desperate need of water.